Barnt Green
0121 445 3311
79 Hewell Road
Barnt Green
B45 8NL
Open : Monday to Saturday
Sunday – Closed
The delightful village of Barnt Green lies about 10 miles to the south west of Birmingham City Centre nestling in the slopes of the Lickey Hills and Woods. Its history dates from the coming of the railways and a lively stock market for sheep and cattle which enabled the sale of animals and produce to other parts of the country. The stock market has long since gone and the railways are now very much for commuters but the style of that period remains with many fine examples of Victorian residences.
When the railway was completed in 1840 there were just two residences in the village, Barnt Green House and Sandhills Farm. The village has grown considerably larger since that time with each decade passing providing numerous examples of the many different styles of property that can be seen here today.
Facilities and Amenities
The village high street (Hewell Road) runs in the centre of the village and has a very impressive array of independent retailers, a post office, as well as a Tesco Express, multiple cafés and two public houses. The community spirit is constantly evident in the village, as local volunteers run a good programme of activities to get involved in, in various locations, Barnt Green Cricket Club is particularly well known with two successful teams; Oulsnams is proud to sponsor them.
There is a small park in the centre of the village, but of course Barnt Green lies next to the Lickey Hills, which offers 100's of acres of woodland and open space to walk around. Other facilities include a Sports Club providing tennis, squash and badminton and a Sailing Club; the well-known Blackwell Golf Club is not far away. Close by are also the Bittell Reservoirs providing fishing and sailing and which act as headers for the Birmingham to Worcester Canal which runs between the village and Alvechurch There is a primary school in St Andrews First School and Middle Schools and Secondary Schools in Alvechurch, Bromsgrove and Redditch.
Transport Links and Location
There are exceptionally easy transport links in Barnt Green, as the village has a train station on both the Cross-City (Redditch to Lichfield) and the Bromsgrove (Birmingham to Worcester) lines. Birmingham City is only 10 miles away, which makes Barnt Green the ideal commuter location for families who want a rural village setting. The nearby M5 and M42 motorways heading north-south and eastwards towards the M40 bring the rest of the country within easy reach .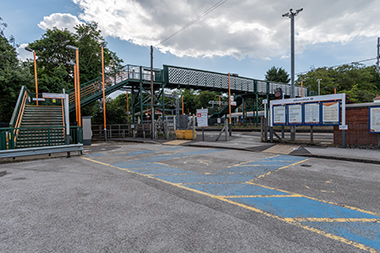 Lickey Woods in Barnt Green